Banana Coconut Ice Cream
I've stalled halfway through Brene Brown's book, Daring Greatly, a week after my book club already met about the book. It would have been helpful to finish it prior to the get together but I just didn't. I kept meaning to but such is life. I intend to finish the book eventually. Anyway, she tells this story about her daughter being in grade school and a girlfriend telling one of her secrets in class and how embarrassed and disappointed she was. The metaphor Brene uses to speak with her daughter is comparing friends to a marble jar; like the sort teachers keep in class that they add marbles to when the class is good or take marbles out of when kids misbehave – encouraging good behavior with a reward to be had if the marble jar becomes full. Friends can be people who we trust while some others say hurtful things at times, but they live on somewhat of an invisible marble system in our heads. You can think of the friends who have earned lots of marbles, the ones who listen and respect your secrets in this case, and those are the friends who it is most safe to be honest and vulnerable with. I just keep thinking about that image, of being a person who earns marbles for and from people I care deeply about, and I feel incredibly accountable for my actions and words in a good way. I understand that is not the big picture of the book but halfway through, I keep thinking about being a marble friend.
I have been slowly paging through Anna's book, A Modern Way to Eat, because so much of her style is what I want to cook. She has just the right amount of Nigel Slater-ness where measurements and directions are sometimes left to the cook and I love that sort of responsibility. I know some folks think it is vague recipe writing but I enjoy it. I had great luck with one of her pancake recipes, am anxious to try the California Wraps and will absolutely make this ice cream again. It has no dairy, a very subtle, natural sweetness, and still feels like a treat. I've been having a thing with McConnell's Eureka Lemon and Marionberry Ice Cream (you guys, if you're a lemon person you MUST try) and this feels necessarily less decadent. My chocolate shavings addition here is because I couldn't imagine it otherwise but perhaps you're more virtuous than I. Her next book, A Modern Way to Cook, is out in the UK if you're that direction and I can't wait to see that beauty as well.
Also! We are heading back to Seattle in October to host a photography workshop with the lovely Aran Goyoaga of Cannelle et Vanille at her beautiful studio. It was such a nice group of people last visit and I felt like I came out of the weekend more inspired than I went in so we're excited to go back. There are more details on her site and a few more spots if you're interested.
I hope your weekend involves ice cream in some capacity.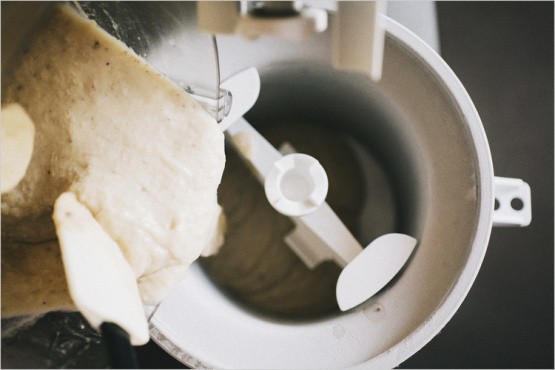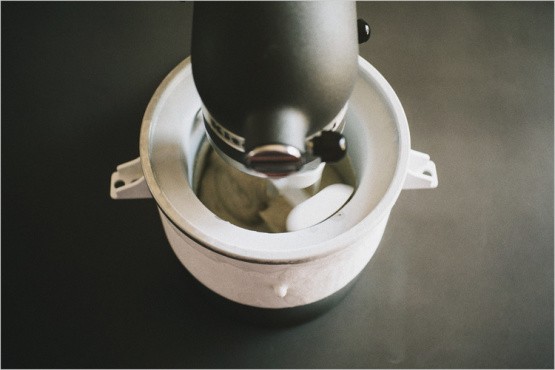 ROASTED BANANA COCONUT ICE CREAM // Makes 1 pint
Recipe adapted from A Modern Way to Eat by Anna Jones
3 medium, ripe bananas
honey (I used about 3 Tbsp.)
1 can full fat coconut milk
juice of half a lemon
pinch of salt
1 tsp. vanilla
3 ounces grated dark chocolate
Preheat the oven to 350′.
Slice the bananas into 1/2 – 3/4 inch pieces and toss them with the honey on a parchment lined baking tray. Bake for 30 minutes, stirring once during baking, until the bananas are browned and cooked through. Scrape the bananas and any syrup into a blender or food processor. Add the coconut milk, lemon juice, pinch of salt and vanilla and puree until smooth.
Chill the mixture in the fridge until cool. Process the mixture in your ice cream maker, scraping down the sides as needed. In the last minutes, pour in the grated chocolate and give it one more churn to incorporate. Transfer it to a container and stir occasionally until frozen. If you like it softer, serve it after only an hour in the freezer, if you want it firmer, let it sit overnight. It will be scoopable after sitting at room temperature for a few minutes.
Garnish the ice cream with some chopped pistachios, toasted coconut or more grate chocolate.